Share :
Mon., Jul. 20, 2009 4:15 PM PDT by
Team WWK
Everybody knows that Chuck and Blair are going to be hot and heavy this season on Gossip Girl, but how far will they go? The Internet is riddled with rumors of a threesome, but could that really happen on the CW? We've got the truth.
Plus, we've got info about what's in store for Sookie and Bill on True Blood, the Dean dish you Supernatural fans have been asking for, the fate of Clark and Chloe on Smallville and some shocking info about an ABC Family fave...
Seth in San Diego: Will Kristin be at Comic-Con this week?
We wish! Our fearless leader is still on maternity leave, but don't fret. Team Watch With Kristin has Comic-Con fully covered, and Jennifer Godwin is even moderating the Psych panel on Thursday. If you have any questions about 24, The Big Bang Theory, Bones, Burn Notice, Caprica/BSG: The Plan, Chuck, Dexter, Dollhouse, Eureka, Flash Forward, Fringe, Ghost Whisperer, Heroes, Lost, Psych, Smallville, Stargate Universe, Supernatural, The Vampire Diaries or V, email them to tvdiva@eonline.com before tomorrow (Tuesday) 5 p.m. PST.
Jill in Nantucket, Mass.: I read that season six will be the last year of House. Is that true?
There is no end in sight for House, as executive producer David Shore told us last week when we spoke about the show's Emmy nods. He said, "We haven't exhausted what we can do with this character and what we can do with all these characters. As long as the show remains interesting, it'll remain on the air. It's not a show with a defined ending. It is not about a beginning, middle and end any more than a human life is. It's about the journey."
Mark in Staten Island, N.Y.: Got any Entourage dish?
We found this exchange with Entourage's Kevin Dillon (Johnny Drama) amusing, and we think you will, too. When asked about the bromances on the show, Kevin said to us, "That's awesome. Bromance. I don't think I've ever heard that. I never heard bromance. If you hear that on the show, it will have come from you." We found that charming, so we thought we'd shock him with another term we did not come up with: dude-vorce. "Dude-vorce! That's awesome. Dude-vorce. It's not as good as good as bromance, but still good. Bromance. Wow." Wow, indeed.
Max in Hendersonville, N.C.: Any scoop on the 100th episode of So You Think You Can Dance?
This Thursday's 100th episode boasts not only a performance by Katie Holmes, but SYTYCD alums Jamie Goodwin and Hok Konishi will be back to perform the "hummingbird and the flower" dance by Wade Robson, and Travis Wall and Heidi Groskreutz-Burns return to perform Mia Michaels' park-bench dance choreography. Ellen DeGeneres and Mia Michaels are guest judging the huge event. We'll also be on hand to interview the top eight dancers, so if you have any questions, email them to tvdiva@eonline.com.
Heather A. in Montgomery, N.Y.: With the Emmy noms out, I was wondering why One Tree Hill is never nominated? It's just as good as those other shows that are nominated. For that matter, there are hardly any CW shows nominated ever. Just want to know why that is.
Oh, aren't you sweet. What can we say? It just wouldn't be fair to put One Tree Hill in the same categories as 30 Rock and Mad Men. That said, Watch With Kristin's CW Awards return in December to fill in the gaps left by the Emmys and to honor the genuine awesomeness that is Supernatural and Gossip Girl.
Dawn in Mobile, Ala.: Just wanted to send you a great big thank-you for keeping us up to date on the American Idol summer tour, especially for those of us who won't be able to make it to any of the concerts. And please do me a favor, please do more reporting on Adam and Allison!
You're very welcome. We will be interviewing each of the American Idol top 10 again in the coming weeks, so feel free to submit questions for them. Our next interview, though, is with Danny Gokey, so if you have any Q's for him email us.
Vanessa in Toronto: Is it true Chuck and Blair are gonna try to have a threesome on Gossip Girl? Tell me they won't go through with it and that it might bring some sexy time for these two? I think we need it as much as they do.
You guys come up with all the best rumors! Our sources tell us there's no threesome between Chuck, Blair and a third player to be named later, but there are a lot of C&B sexcapades happening in Gossip Girl season three. And white-hot angry sex is on the list.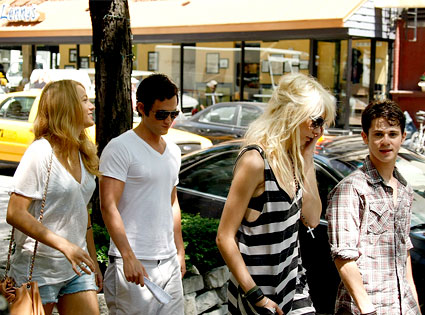 Jeffrey Ufberg/Getty Images
Kelly in Montana: Any scoop on Olivia and Dan's relationship on Gossip Girl?
The newest fabulous Upper East Sider, Olivia (Hilary Duff), likes that Dan doesn't recognize her as a famous movie star.
Clarice in Rio de Janeiro, Brazil: Any news about Jenny on Gossip Girl?
Jenny's going to have to defend her queendom against the mean girls. Makes sense. Mean girls don't usually surrender the spotlight so easily.
Adam in N.Y.: Anything on Carter Baizen since Sebastian Stan's show Kings is kaput? Is he back on Gossip Girl? He's shady.
Shady Carter is going to be hooking up with Serena! Yes, Serena van der Woodsen and Carter Baizen are going to try to make a go of it in season three of Gossip Girl. Forgive us if we're not optimistic about their long-term prospects.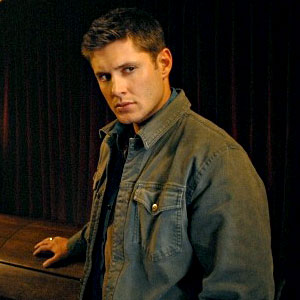 Sergei Bachlakov/The CW
Katie in Colorado Springs, Colo.: We Supernatural fans are still waiting for some spoilery Dean goodness for season five. Help us!
You ask, we answer! Our sources tell us that when Supernatural returns, Dean takes Castiel out for a night on the town to loosen him up. As you could assume, hilarity ensues.
Zoe in Allentown, Pa.: Almost every episode of One Tree Hill started and ended with a voice-over by Chad Michael Murray. With CMM leaving, who is going to be delivering the dramatic words of OTH wisdom?
The most likely scenario is that the OTH voice-over will rotate between the regular characters every week, but nothing's been decided for sure yet.
Grace from Chelsea, U.K.: Do you have any news on what's to come on the new season of Smallville? Will Chloe ever be with Clark?
We're actually hearing of a "strained relationship" between Chloe and Clark next season on Smallville. Those two will always work together, and they will always be your "Chloe and Clark," but expect some tension in season nine. Sorry guys.
Lily in St. Paul, Minn.: Do you have any news on Grey's Anatomy?
Grey's Anatomy is casting an oncology resident for episode two of season six. Is Izzie's cancer in remission or not? Hmmm...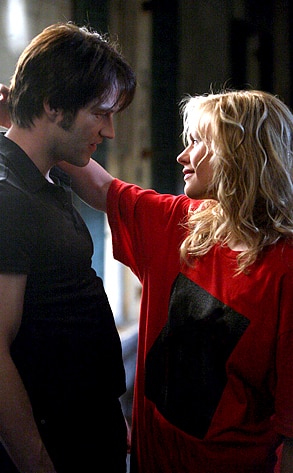 HBO/ Jaimie Trueblood
Andi in Fort Meade, Md.: Will Bill and Sookie have more tender and sexy moments on True Blood this season?
They won't be having such a tender moment next week when Sookie heads off to the Fellowship of the Sun church with the hope of getting information on the whereabouts of Eric's maker, Godric. Bill is quite worried about his gal and rightly so. When asked if Sookie is the kind of person who will save the day, Anna told us, "She will die trying." Ruh-roh.
Stacie in Portland, Ore.: When does Jackie's double life get revealed on Nurse Jackie?
A piece of Jackie's secret life (well, secret to most at the hospital) slips out in the July 27 episode when Dr. Cooper accidentally finds out that Jackie has a kid and he gossips about it to Eddie. Yes, Eddie finds out she has a kid! Uh-oh. As for Jackie's other big secret, that drug dependency becomes more and more of a problem for the saintly nurse: She moves up to harder stuff, and she also starts getting sloppy. Jackie accidentally drops her pills into her kid's food, she gets a nose bleed after snorting up in the hospital church, and then Zoey (Merritt Wever) walks in on her snorting drugs in the bathroom. Not good.
Gil in Cleveland: What's up with the Tommy/Janet/Sheila love triangle on Rescue Me?
You don't want to miss next week's Rescue Me for a few reasons. First, Sheila and Janet have a face-to-face alone in the firehouse that ends with Janet giving Tommy an ultimatum of "It's her or me." Yep, that time has come. Second, this is the episode when Maura Tierney's story arc starts, and so far she is fan-tast-ic! Yay!
Emma in Del Mar, Calif.: Anymore info on the heartbreaking season finale of In Plain Sight that you teased before?
Besides the tease from In Plain Sight star Lesley Ann Warren about something awful happening to Mary in the finale, executive producer David Maples tells us about the Aug. 9 season-ender: "The In Plain Sight finale is an event that unfolds over two episodes, and a lot of things transpire with our cast, work-wise and with personal relationships. Things are left up in the air with the show, but it's not like the Moldovan army comes in and starts spraying bullets and we don't know who's alive and who's dead. It's not quite that kind of a cliffhanger."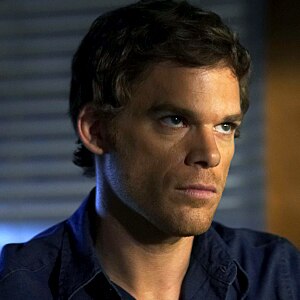 Dan Littlejohn/Showtime
Natalie: I need some scoop on the new season of Dexter. Tell me something! Anything!?
A casting call has gone out for the sixth episode of Dexter season four, "If I Had a Hammer." The producers are looking for a marriage counselor. Does that spell trouble for newlyweds Dexter and Rita? Besides, obviously, the obvious serial killer thing. Hit the comments!
Kelly in Stockton, Calif.: I know it's early, but do you have anything on Big Love?
Big Love producers are now casting for Dale, a closeted gay Mormon accountant who takes charge of the Juniper Creek assets. How much do you want to bet that Dale and Alby Grant (Matt Ross) spend a good portion of season four sublimating (or not) their sexual tension?
Mike in Chicago: What sets Glee apart from other high school shows like 90210?
According to Matthew Morrison, this isn't your everyday high school show. Morrison tells us, "Glee gets things that are untouched in high school. You'll never see a prom segment, some of that stuff is so played out. We have so many original and fresh takes on things. There's a little bit of outsider in everyone; I think it'll touch a lot of people." A wonderful episode where Chris Colfer's Kurt Hummer comes out of the closet is among the stories that will tug at your heartstrings.
Ariel in Mission Viejo, Calif.: Any dish to share on Brothers & Sisters? I miss my Sundays with the Walkers.
The Walker family is growing! When Brothers & Sisters returns in the fall, Scotty and Kevin are going to try to have a baby, and we're hearing something about an appearance by Nora's mom, who will, no doubt, make Nora crazy.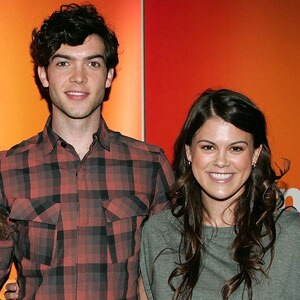 David Livingston/Getty Images
Kelly in Philadelphia: I adore 10 Things I Hate About You's Kat and Patrick. What's ahead for them? Will the show keep the movie plot of Patrick being paid to date Kat?
There are no payoff plotlines for the TV version of 10 Things I Hate About You's Kat and Patrick. However, they will hang out at her house in episode seven (titled "Light My Fire"), and we're pretty sure that leads to some kissage! Oh, and Kat and Patrick end up going to a school dance together, only it doesn't work out as romantically as in the movie.
Rory in Portland, Ore.: I'm loving Make It or Break It on ABC Family! Got any info?
One of our favorite Make It or Break It rock stars is going to face a major injury before the season is over. Sniffle.
Andy in Dallas: What's the deal with Ray's wife leaving him for a nerd on Hung?
Hung star Eddie Jemison has your answer right here: "Jessica [Anne Heche] comes in for a dermatology appointment, and I convince her that she's somehow allergic to her husband, and so we wind up together somehow." Sneaky! We like it.
Belle in Tucson, Ariz.: Do you have any news on Ghost Whisperer?
We'll be meeting a younger version of Jamie Kennedy's Eli in Ghost Whisperer's third episode of the season.
Kelly in Valencia, Calif.: Anything on United States of Tara? It's my fave Showtime show, and I'm so happy Toni Collette got an Emmy nom!
When United States of Tara returns for season two, we'll discover that Buck is stepping out on Max—and Tara is not going to be happy about that!
Eric in Long Island, N.Y.: It looks like ABC's Defying Gravity is just the same as Fox's Virtuality. What's the deal?
While Defying Gravity and Virtuality do seem to have some similarities, the difference is that Gravity is a little more lighthearted. It has some subtle comedy to it. Yes, someone almost dies being shot out of an airlock system like Battlestar Galactica Virtuality; however, we'll learn that there's something more sinister calling the shots on the Antares spacecraft, and it's not some virtual crazy man—at least, we don't think so, since it goes by the name Beta. Gravity premieres Aug. 2 at 9 p.m. on ABC.

Have a burning question about your favorite TV series? Email tvdiva@eonline.com for answers!
Want the latest updates ASAP? Get Kristin's RSS feed and follow Kristin on Twitter. For more photos and videos, visit Kristin on Flickr and YouTube. And don't forget to visit Kristin daily at kristin.eonline.com.
—Reporting by Natalie Abrams, Carrie Borzillo-Vrenna & Jennifer Godwin
Source:
http://www.eonline.com
Share : Rss Feed :